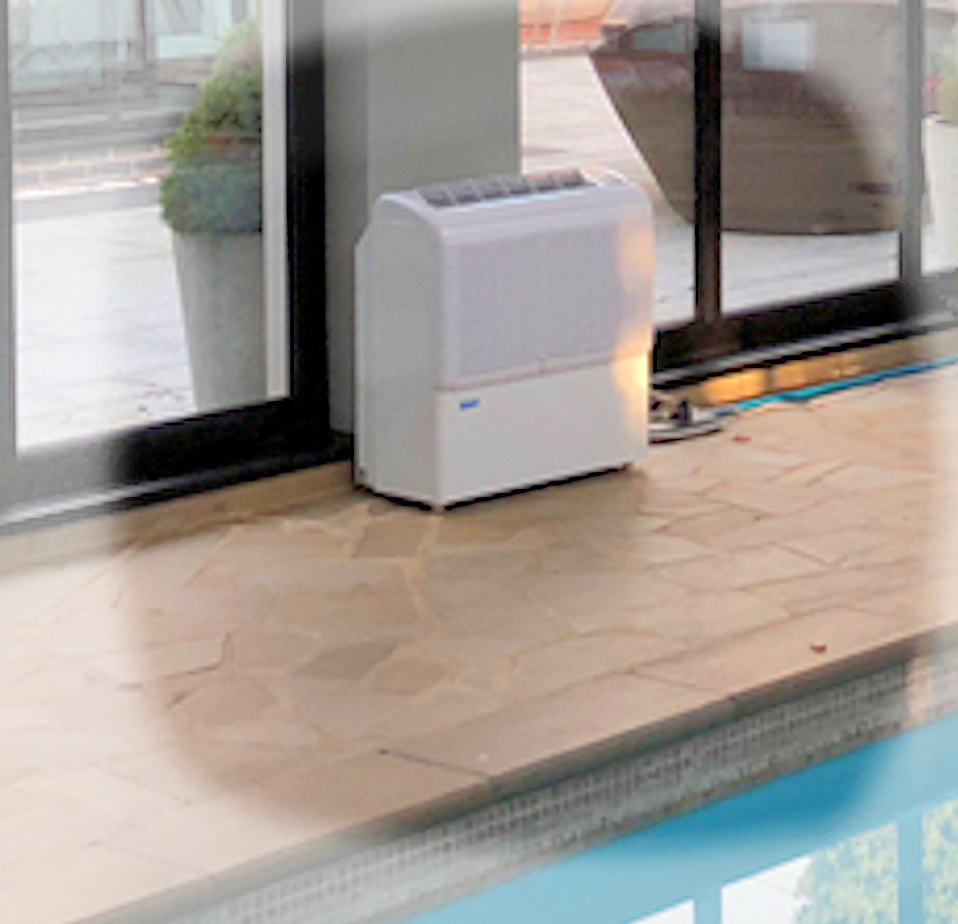 Refrigerant Dehumidifier


WATER IS GRAVITY DRAINED AWAY 



Ideal for Offices, Pools, Museums & Storage
65

Litre Compressor Dehumidifier 220V / 50Hz
Swimming Pool Ready
Free Standing Against Wall
Will dry 247 and dry even down to 40°C/104°F. Can work down to 4°C/40°F.  Internally protected for use in swimming pool areas if needed.  Often used in commercial areas & even larger basements of homes..
Mostly Steel Construction.




Plastic Grills & Top



Controls are accessible from the top.  Therefore, controls should be easily accessible when mounted.
Energy efficient with optimum cooling and compressor operating times based on an internal microprocessor calculation to optimize performance.
Three possible drain points Left, right & center.  Can not be used with external humidistat.
Features Explained
Compact – Perhaps the most popular 65 Litre  wall dehumidifier in the market.
Dust Filter – The dehumidifier has two washable air filters that are easily accessed from the front. Handled with care they should not need replacing for the lifetime of the dehumidifier
Easy Repair – easy access to key parts from the rear cover. Easy gas recharge point to top gas levels over the lifetime of the unit.
On Four Feet – The dehumidifier is meant to be placed on the floor and secured to a wall to avoid tipping with the bracket provided.
It is important to have at least 600cm of gap between the top grill and ceiling about to avoid air recirculating back inside the dehumidifier an defrost cycle issues.
Digital Humidistat – Built in humidistat can regulate the humidity level automatically ranging from 40, 50, 60, 70% Humidity Levels (40% being the most dry / 70% being most humid) or continuous running mode.
Two Fan Speeds– Choose between high and low fan speeds from the same control panel
Power Supply – 220V supply 50Hz
Wall Mount Bar – Includes bracket to attach to the wall and hooks into the dehumidifier to secure it to any wall.  Fixings not provided.
Auto Reset – If there is an interruption to the power supply, the dehumidifier will go back to off position. This is a safety feature and may avoid damage to the key component the compressor.
Compressor Light – On the control panel the compressor light will indicate when the compressor is working. If the fan is running without the compressor on then the unit is in defrost cycle. The defrost cycle time depends on temperature and air humidity level. The on board micro processor determines optimum cycle time automatically.
2m / 6″ Power Cord– If placed near to water supply the plug should be removed and hard wired to a fused slash proof power socket.