Industrial Warehouse or Swimming Pool Dehumidifier
UK designed with swimming pools in mind but this unit has been used successfully in warehouses, gyms, art galleries, indoor sports halls, spas, changing room areas and many storage applications.  Dry air can be ducted out and ducted in.  Ducting in & out of tubular ducting is possible with the simple to install ducting kit (not provided).  Can also be used in conjunction with heating system for the pool or warehouse drying air prior to being heated by the heater in the room (not provided)
Mild Steel Inside & Out with tough Epoxy Paint Coated with Blower Fan
Perfect for keeping public areas free of humidity problems including swimming pools, commercial greenhouses, offices, hotels, gyms, museums, warehouses, spas or storage areas free from excess humidity. 
110 liter Rotary Compressor Industrial Dehumidifier
Rotary Compressor Industrial Dehumidifier for quiet operation with mild steel construction and metal grills.  Gravity drained with 15mm brass coupling.  Can be used together with a condensate pump  
Designed in the UK as an easy fit workhorse industrial dehumidifier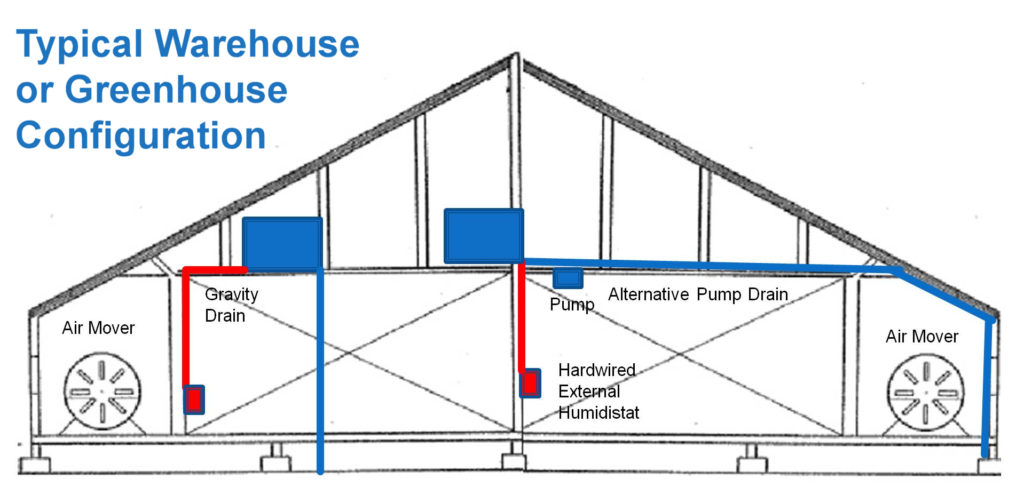 User manual HERE
Features Explained
Reticulated Foam Filter – The dust filter can be shaken clean periodically to prevent dirt entering the dehumidifier.  Very easy to access with two clip springs keeping the metal filter frame in place that are easily opened.
Easy Repair – Easy access to key parts from the top cover     
On Four Rubber Feet –  Often slung from beams on hangers high up to allow access to filters for cleaning and to maximize the extraction as moisture migrates upwards. 
Two Fan Speeds – The fan setting can be changed by the external switch on the rear of the uniti
Power Supply – 220V 50Hz
Auto Reset – If there is an interruption to the power supply, the dehumidifier will resume automatically controlled by the humidistat (not provided)
Jack Plug Humidistat Connection – The jack plug for connecting a humidistat is provided.  Flicking the switch to enable the external humidistat (low voltage and not provided) means regulating moisture to the space being dried is easy.
Drainage– Gravity drained through a standard 15mm brass fitting.  Can be used in conjunction with condensate pump if needed to pump water to a higher height (not provided)
2 Meter Power Cord – In the UK, If placed near to water supply the plug should be removed and hard wired to a fused splash proof power socket.