3

5 Liter Desiccant Dehumidifier
Industrial dehumidifier DH2500 steel construction with tough epoxy paint finish. Used for:- Fresh water boats / Industrial Processes / Garages.
Very small for its 45 liter capacity.  Will dry 247 and dry even down to -20°C. Can work up to 40°C. Perfect for any climate.
Steel Inside & Out
Tough Enough Even for Hiring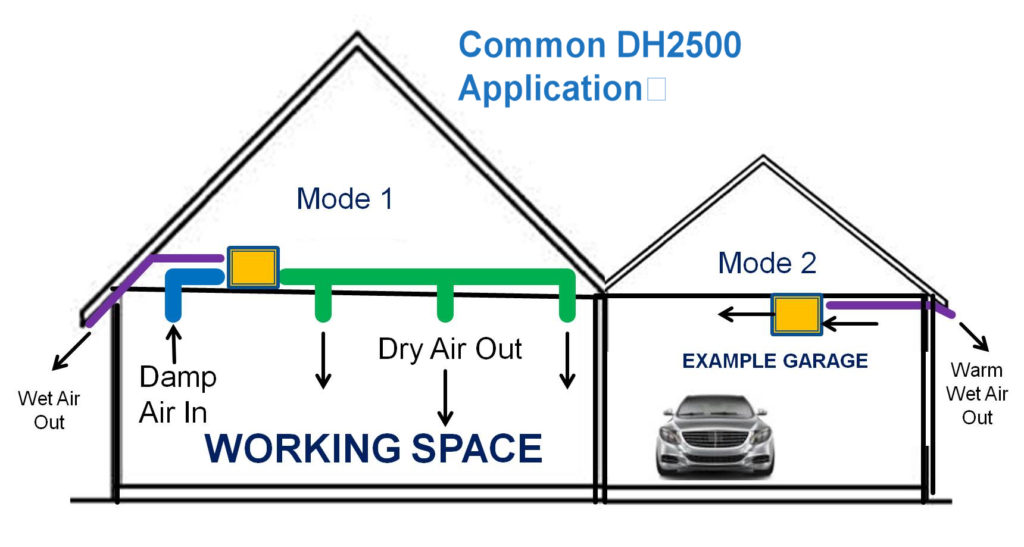 Can be carried by one person and transported easily with the carrying handle.
No water container to empty. Instead the water is expelled via a 80mm air duct to the outside (standard size).
Self regulating energy usage that adapts to air pressure differences using always the right amount of power to dry effectively
Ecor Pro's Unique DH2500 Low Temperature
(+40 to -20°C)
Designed in the UK as a unit fit for professional purpose. The DH2500 Ecor Pro is a 3 Hole desiccant dehumidifier and was even built for use in the hire industry. Many configurations if installed.  Input process air is dust filtered & dried. Input air can be ducted in with a 125mm duct (5″ inches). Wet exhaust air can be ducted out via a 80mm duct
Ecor Pro's research shows that the DH2500 will be four to seven times faster at drying buildings at low temperatures than a traditional compressor dehumidifiers
Installation guide DH2500 HERE
User guide DH2500 HERE
Features Explained
Highly Compact – Perhaps the smallest 35 Litre dehumidifier in the market.
Dust Filter – The DH2500 desiccant industrial dehumidifier benefits from a simple reticulated dust filter in metal frame that can be shaken clean or easily replaced to prevent dust particles entering the unit and impeding performance.
Easy Repair – Maintenance and eventual repair have been thought through with an easy to remove cover that gives easy access to replace cord sets or warn parts by a qualified persons quickly. Prolonging the lifetime of the DH2500 dehumidifier. Cord sets can be replaced in around 20 minutes
On Four Feet – Anti scratch plastic feet 
Carrying Handle – Easy to carry by one person.  The handle can be removed if the product is being installed.  The handles also protect the dehumidifier duct flanges if in transit.  
Humidistat Connection  – The DH2500 has no humidistat but one can be added very simply.  A military standard connector is on the front of the DH2500.  To this the remote humidistat EPHUM220 can be screwed in place to switch on / off the dehumidifier at the humidity you set.
Duct Air-In & Out  – The DH2500 has all ducts fitted with flanges to allow ducting to be added with 125mm hard or flexible ducting.
Wet Air Exhaust – The DH2500 has one internal fan compared to two in the DH3500.  Both do not produce water.  The moisture is vented away allowing it to work in colder temperatures.  The moisture is purged from the system by 15% of the process air so will dry with slight negative pressure.     
"Three Hole System" – The system is classed as a "three hole" system due to the one inlet and two outlets.  With slight duct configuration the hole system can be used as a four hole industrial dehumidifier but needs accurate duct flow measurement.  If this is a concern then the DH3500 is an easier alternative
Power Supply – 220V supply 50Hz 
Auto Reset – If there is an interruption to the power supply, the DH2500 will continue to operate as soon as the power has been returned. Perfect in locations where the there is a "dirty" power supply that can affect other electronically controlled products.
All Metal Construction – All metal with epoxy paint finish heat treated for strength inside & outside. Designed for longevity.
2 Meter Power Cord – no need to join cables when placed for instance in crawl spaces or lofts in the home for example.