Safest & Most Powerful Desiccant Home Dehumidifier

Perhaps the safest Desiccant Home Dehumidifier designed for home use.  We still advise however if drying is needed all day every day or there is a risk of frost damage then the DryFan range should be considered.
Hard Plastic ABS Plastic Body Perfect for Areas where No Venting is Possible.
Ideal for living rooms, bedrooms, kitchens and Laundry Rooms
Ideal for many applications where occasional trying is needed.  The water container will need to be emptied as an when required or where there is a gravity drain point.
Perfect for drying cloths over a normal tumble dryer indoors, clearing bedroom, conservatory condensation.  Can be used in laundry rooms.
This product should not be used in Bathrooms, Garages, in areas that can cause shock or be damaged by frost. Do not use in commercial environments. Consider installing Ecor Pro's DryFan 12 dehumidifier into these areas.   .
12.5 liter Home Dehumidifier
Probably the safest home dehumidifiers in the market but all home dehumidifiers should be used with persons in attendance.  We always recommend if drying is to be made all day every day then commercial grade DryFan units are used for the home.
TDZ110 (+40 to -5°C) Desiccant Home Dehumidifier
Perhaps the Safest Home Grade Desiccant Dehumidifiers
User Manual HERE
Features Explained
Equivalent to 23 Liter Domestic Dehumidifier  – At normal temperatures the TDZ110 will extract more water than a compressor dehumidifier rated higher in water extraction.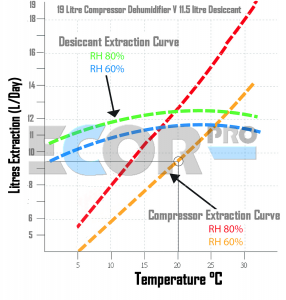 Dust & Bacteria Filter – Washable filter to help remove dust particles from the air.  Also helps reduct bacteria in the air.
On Four Feet – Four none slip feet allow easy positioning.  The home dehumidifier can be positioned between furniture.
Carrying Handle – Handle lifts out so that the home dehumidifier can be moved from room to room or put away into a cupboard.
Auto Reset – If there is an interruption to the power supply the dehumidifier will resume operation.  
Auto Louvre  – Distributing dry on 120° swing or can be directional for spot drying of spillage or indeed washing.
Smart Energy Acquisition – Our unique Fuzzy Logic controlled technology that has the power to learn the patterns and variations of the atmosphere that surrounds the unit and in
Saving Mode Humidistat – Can save 40% of the energy over other desiccant home dehumidifiers.
Operational Cycles
Energy Saving & Drying Modes – DRY (Auto / Hi / Low) and Laundry (Energy Saving and Turbo) are the 5 modes of operation :
Dry Auto: humidity controlled around 45~50%. The fan is automatically high or low.(When over 50%RH, it runs low-power dehumidification and high fan speed. When less than 45%RH, it stops dehumidification but the fan runs in low speed.)
 Auto Mode – Dehumidifier will run for 24 hours.  If users select the Auto Mode the product will keep running if the humidity stays higher than 60%RH and the water container is not full or is permanently drained. (humidistat tolerance  55 – 60%)
Dry Hi: humidity controlled around 35~40%. The fan is always high. (When over 40%RH, it runs with high (below 35℃) or low power(35~40℃) dehumidification. When less than 35%RH, it stops dehumidification.)
Dry Low: (Quiet): humidity controlled around 45~50%. The fan is always low. (When over 50%RH, it runs low-power dehumidification; When less than 45%RH, it stops dehumidification.)
Energy Saving: humidity controlled to 45% or lower. The fan is always high. (When over 50%RH, it runs with high-power dehumidification (below 15℃), low power dehumidification (15~ 35℃) or stops heater (over 35℃) ; when less than 45%RH, it runs with low power dehumidification (below 35℃) or stops heater (over 35℃).)
Laundry Turbo: humidity controlled to 35% or lower. The fan is always high. (when over 40%RH and below 35℃, it runs with high-power dehumidification. When over 40%RH and in 35~40℃, it runs with low-power dehumidification. When less than 35%RH and below 40℃, it runs with low-power dehumidification.)