Heat Recovery Unit For The Home
Using Compressor & Giving Fresh Air

Built with a wide variety of uses.  Designed for mounting in a loft hatch of a home and drawing in humid air from specific rooms such as bedrooms, bathrooms and other areas such as laundry rooms.  Dry air can be ducted from two points to exhaust in on place or several places around the home.  Also can be used in conjunction with central air heating & air conditioning systems.  Fan only option allows air to be circulated without drying but filtered by the HEPA type filter acting as a whole home air cleaner.  
Mild Steel Inside & Out with tough Epoxy Paint Coated with Axial Fan
Ideal for many other applications apart from homes including for Swimming Pools, Changing Rooms, Spas, Hair Dressers, Retail Outlets, Offices & Warehouses,
80 liter Rotary Compressor Heat Recovery Ventilator
Can Pay For Itself in 5 Years With Heat Recovery
Rotary Compressor Dehumidifier for quiet operation with mild steel construction and metal grills.  Airflow front to rear or/and rear top top.  Remove top easy for qualified engineer service giving long term longevity to the product.  
LD800 Designed Too Save Money & Fresh Air Input Option (+35°C to +7°C)
Designed in the UK as a unit fit for home purposes to such a high grade it can be used for commercial applications.
Digital Humidistat & Two Fan Speeds.  Recently Improved Design
User manual HERE
Features Explained
Right Size – Designed to fit through a loft hatch an cope with dehumidification needs of larger homes 80 liter dehumidifier.
HEPA Type Filter – The dehumidifier has a HEPA type filter that can take out pollen particles from the air of the home as well as dust.
Easy Repair – Easy access to key parts from the top cover and configure the heat recovery ventilator for ducting from the metal duct flanges.    
On Four Adjustable Feet –  Often slung from beams on acoustic hangers or on rubber matting to dampen any compressor sounds from the home. 
Single Fan Speed – The fan can be operated separately with a thermostatic controller or simple switch (not provided) to add a summer function to the LD800 heat recovery ventilator.  Comes with 2 x 250mm flanges & 1 x 150mm flange
Power Supply – 220V supply 50Hz 
Auto Reset – If there is an interruption to the power supply, the dehumidifier will resume automatically controlled by the humidistat (not provided) and the thermostat.  
Drainage– Gravity drained.  Can be used in conjunction with condensate pump if needed (not provided)
2 Meter Power Cord – In the UK, If placed near to water supply the plug should be removed and hard wired to a fused splash proof power socket. This product should not be used from the lighting circuit in the loft space only ring main.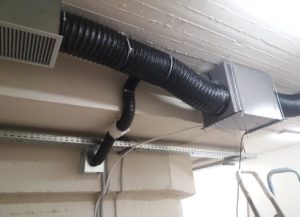 Basement Application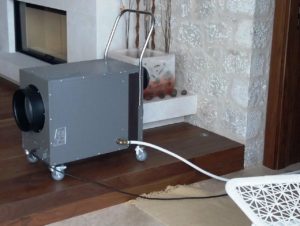 Application as a flood dryer (Wheels & Handle not provided)