Boat Dehumidifier with Worldwide Patent Pending

Purpose built boat dehumidifier. Unlike domestic dehumidifiers, these models are truly designed to run 247. Very small and will extract water even down to -20°C. Perfect for any climate. Salt resistant where others corrode.
Stainless Steel Inside & Out
Perfect As A Boat Dehumidifier Includes AXIAL FAN
Ideal for many applications for boats, yachts or any shipping but also where cleanliness is important such as in Kitchens, Bathrooms & food preparation areas.  Dryboat will need to be cleaned regularly with harsh chemicals or salt solution.
Perfect for drying out sails after a days sailing, drying clothes, ropes & equipment from the affects of salt spray. Drying or just maintaining cabin humidity level which prolongs the lifetime of items.
8 liter Desiccant Dehumidifier
Desiccant boat dehumidifier of compact size with a stainless steel casing & carrying handle on four feet that double as securing fastenings. These allow the DryBoat® 8 to be secured securely into a cupboard, under seats or used in a removable location to be able to take it home at the end of sailing. In the home it has many applications too.
Can be carried by one person and transported easily with the carrying handle.
No water container to empty. Instead the water is expelled via a 41mm air duct to the outside (standard waste pipe diametre).
Ecor Pro's Unique DryBoat® 8 Low Temperature (+40 to -20°C) Desiccant Dehumidifier
Designed in the UK as a unit fit for professional purpose. The DryBoat® 8 is an Ecor Pro "3-hole" system desiccant dehumidifier (it built to the highest standard with a very solid construction. Input process air is dust filtered and dried. Input air can be ducted in with a 125mm duct (5″ inches). Wet exhaust air can be ducted out via a 41mm duct (standard waste pipe diameter).
Unlike the DryBoat® 12 the DryBoat® 8 does not have processed-air exhaust.  This is provided with the Dryboat® 12
The Ecor Pro DryBoat® 8 desiccant dehumidifier is a great choice for even drying around the home. The turbo fan allow a longer duct length of ducts up to 6 meters without greatly affecting performance.
Ecor Pro's research shows that the
DryBoat® 8
will be four to seven times faster at drying buildings at low temperatures than a traditional compressor dehumidifiers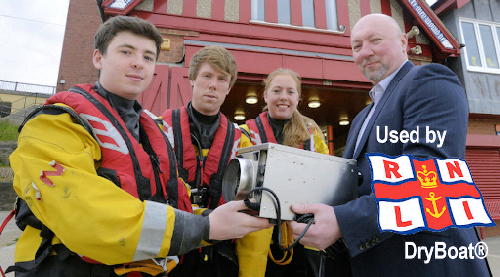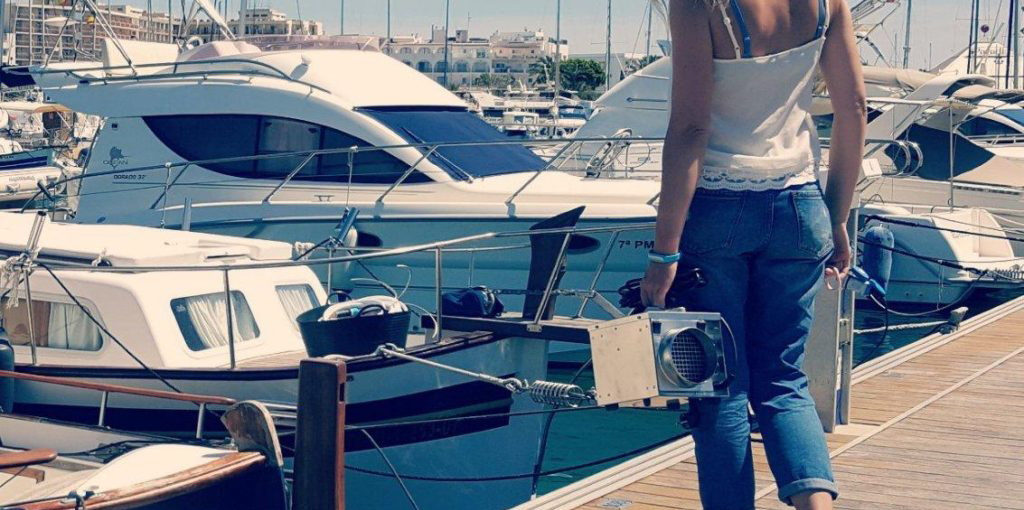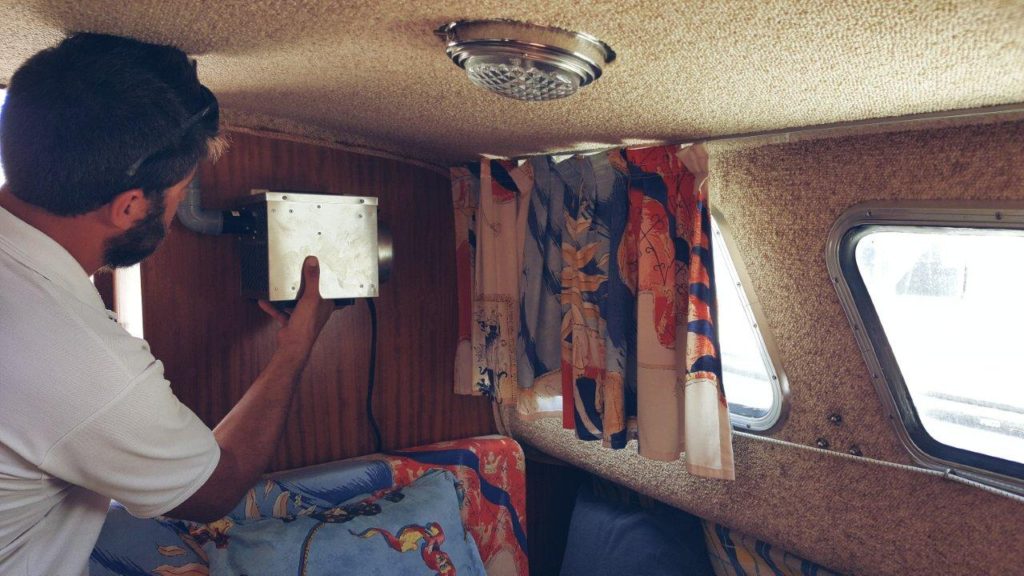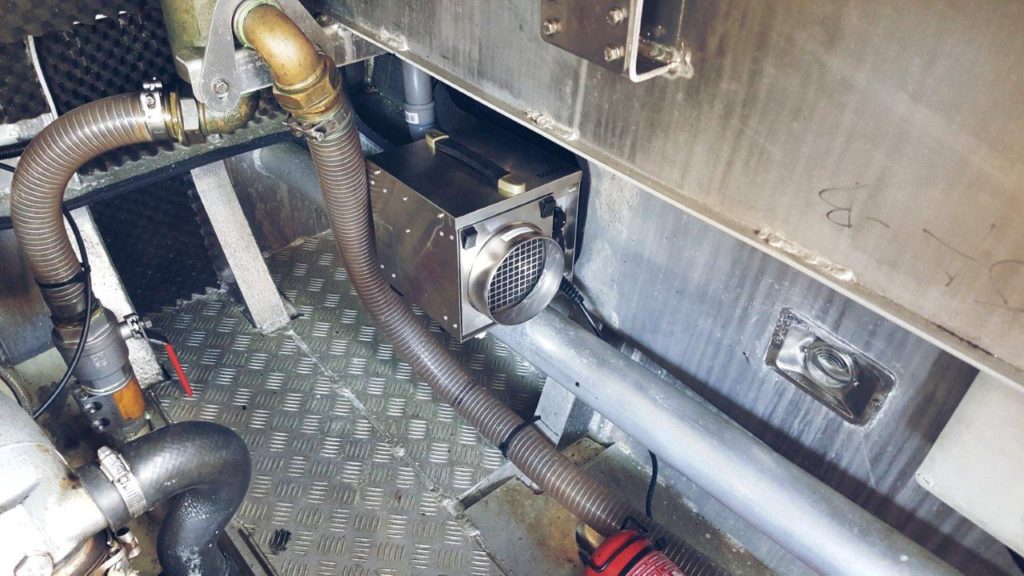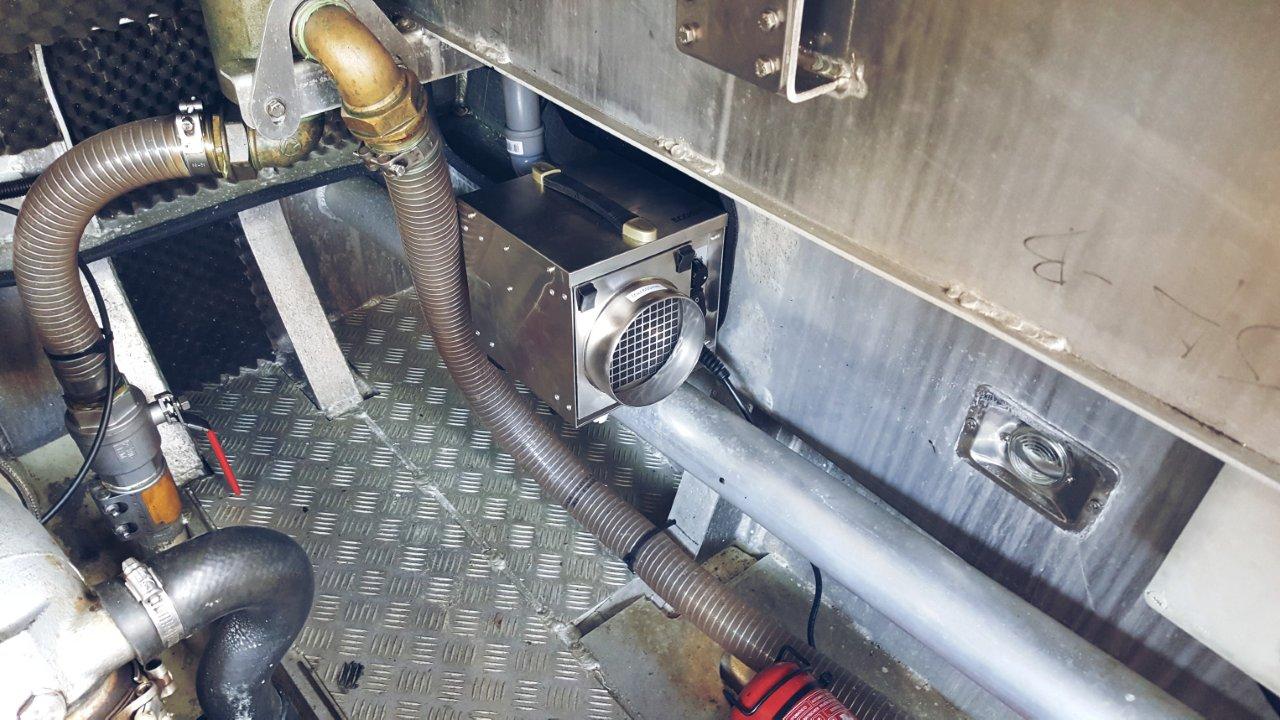 See installation guide HERE
Dimensions of DryBoat HERE
Features Explained
Highly Compact – Perhaps the smallest 8 Litre dehumidifier in the market.
Dust Filter – The DryBoat® 8 desiccant dehumidifier benefits from a simple reticulated dust filter in metal frame that can be shaken clean or easily replaced to prevent dust particles entering the unit and impeding performance.
Easy Repair – Maintenance and eventual repair have been thought through with an easy to remove cover that gives easy access to replace cord sets or warn parts by a qualified persons quickly. Prolonging the lifetime of the DryBoat® 8 dehumidifier.
On Four Feet – Anti scratch plastic feet can cleverly be swiveled out to make four anchor points so that the DryBoat® 8 can be fastened with suitable screws or bolts (not provided) to walls or simply fastened down onto a surface.
Carrying Handle – Flat handle that can be extended to allow easy carrying in one hand
Humidistat – Built in humidistat can regulate the humidity level automatically
Remote Humidistat Option – A simple low voltage humidistat from the Ecor Pro range can be added to the DH800 by way of a simple plug in low voltage jack plug.
Duct Air-In Option – The DryBoat® 8 is fitted with a metal duct flange on the filter grill to allow for an external 125mm duct to draw in the air from a more remote point. Concentrate the most damp air into the unit to be dried if needed.
An additional flange can be added to the Air Out but is not provided with the unit.
Exhaust Duct – Made for easy permanent installation by plumber or Home DIY person using standard waste pipe 40mm diameter fittings.
Power Supply – 220V supply 50Hz that can be run off a 12VDC-220VAC converters (110V option)
Auto Reset – If there is an interruption to the power supply, the DryBoat® 12 will continue to operate as soon as the power has been returned. Perfect in locations where the there is a "dirty" power supply that can affect other electronically controlled products.
All Metal Construction – Metal construction inside & outside. Designed for longevity.
Long 5 Meter Power Cord – no need to join cables when placed for instance in crawl spaces or lofts in the home for example.
Easy Access to Key Parts – If there is a fault with the unit its easy for the professional to repair. fast access to the internal parts that can be maintained or replaced very easily.